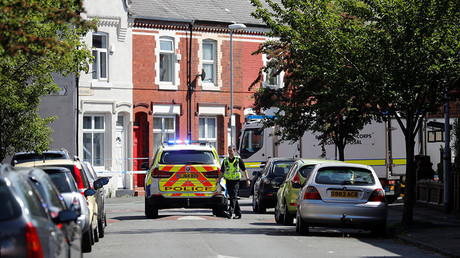 As the Manchester Arena bombing investigation unfolds, police raid a house and arrest suspects at two different locations in the city. Locals say they heard an "explosion" during the raid.
"Today, Sunday 28 May 2017, officers investigating the attack at the Manchester Arena have executed a warrant at an address in Moss Side," police said on Sunday in a statement on Twitter. "A search is currently ongoing."
An "explosion," believed to be performed by the police in order to blow open a door, was heard at the site of the raid, local media report, citing witnesses. Multiple police cars, officers, and dogs remain at the scene. Quantock Street is cordoned off.
At a different location, police arrested another suspect in connection with the Monday suicide blast.
"Officers have also arrested a 25-year-old man in the Old Trafford area on suspicion of offences contrary to the terrorism act," police said.
14 people in total have been arrested during the large-scale investigation of the bombing, and 12 of them remain in custody. Two people were released after questioning without charge, police said.